heyhey , Exo growlinggg ~
Assalamualaikum ,
yes , exo comeback teng teng teng ~ dengan growl nya .. wehh , exo datang balik wehhh . kris , luhan , lay , xiumin , chen , tao , kai , sehun , baekhyun , chanyeol , d.o , suho ... kacak ~ handsome ~ cool .. terutama lay and kris ..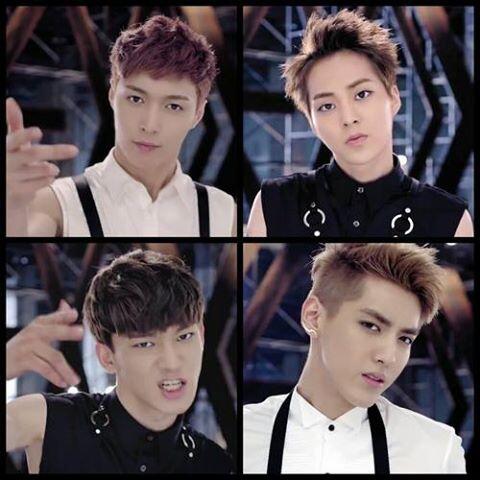 hello there , this four flower boys is mine . actually , Kris dengan Lay jee . ahh , lay .. mature gila muka dia . kris? sexy laa .... this is so dangerrrr . omo omo ... tak sabar nak tengok live stage . then , dance step lagu tu pusing2 . live stage mesti susah sikit .. ahhh , then , semalam aku jumpa something yang pelikk . BIGGEST JOKE OF THE DAY actually , ni ha .
SNSD

Yuri

and

Luhan

are dating.Fans caught them holding hands while going to KBS Music Bank half-yr special recording.
Buat lawak kee ? STUPID RUMORS . tiba-tiba jee . pelik , yuri dengan luhan tak sesuai . apa-apa pun , harap2 takde dah rumor merepek ... rindu yurii , tak sabar nak tunggu "No Breathing" keluar , bulan sepuluh . my yul cantik gila dalam cerita tuh , main gitar .. musician kann ~ and today is #TODAYISMYDAY .. Saengil chukkae hamnida , saengil chukkae hamnida , saraghaneun Hwang Min Young ssi , sangil chukkae hamnida . TIFFANY , stay pretty , cute , and be yuri's buddy forever . my love is for you and yuri ... YULTI FTW .
Kwon Yuri : "

Tiffany bling bling like the jewels. Tiffany, we've gotten closer these days and talked a lot more. And you're more thoughtful than you seem. It's almost like you don't know hardship or sadness because you seem so bright on the outside, but you pull through it all, and you're always thankful. I feel there is a lot to learn from you. You are a big strength. Thank you~"
Tiffany : "

And the next is Yu RI~ Mmm.. Thank you Yu Ri for always staying at home with me. My buddy! My constant buddy... we make a good team, and I feel you understand me. I often say unreasonable things, right? And... I think I make no sense a lot of the times. I like you because you try to understand my incomprehensible sides. Love you!"